Israel is a small country, focused, to a great extent, on survival issues, and poor in forests.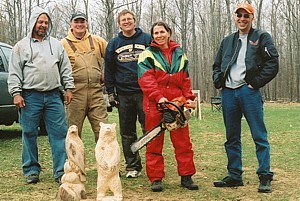 Talya with her Graduating Class
Left to right: Dean Gannon, Jeremy McCrank, Brian Johnson Instructor, Talya Selbst, and Dan Deforge
As a result, wood resources are limited and expensive. Wood working too, is far from wide spread as in the U.S. But, wood is a wonderful material, always fashionable, in construction, furniture, arts and crafts, all over the world, including Israel. I run a small woodworking school in Israel, offering a wide range of fine woodworking techniques.
My personal choice is wood sculpting and carving. For both knowledge and inspiration, I often turn to American books, and American websites.
This is how I came across the Wisconsin School of Chainsaw Carving, about six months ago. As outrageous as it seemed, I hesitantly made contact and ended up coming for a five day course last April (2005). It was worth the trip, time and expense.
I had a wonderful week, learning to do what I like, just much bigger, using a chainsaw.
Brian, who ran the course, is an extremely talented and knowledgeable man. He was very generous with his abilities and professional know how's. The whole Johnson family was there to help us get the best out of the course. They are warm and welcoming people.
My only complaint is that is snowed most of the week; it was beautiful but very cold.
I feel lucky to have had the opportunity to get personally acquainted with the chainsaw, I am sure this is to be a long lasting friendship.
Talya Selbst
D.N. Shimshon, Israel

---